6 Ways to Earn More Money From Your Shopify Store With An Example Analysis (Gymshark)
Here at The Panda Way, we are always looking for to help our readers to find new ways to generate more income; and there are many of them that are Shopify stores owners.
The last week (March 8th, 2019), I had the pleasure to meet a seasoned Shopify store owner that has created 3 successful stores in three different niches. She and her crew has earned $6.5 Million USD from the 3 stores in the last 4 years; and my first reaction was to congratulate her for the outstanding journey, and I asked her just one question:
What are your sources of income?
And her answer was:
We generate our income from direct sales from our stores. We are in a good shape right now
I thought for a moment and shoot:
What would happen if your income decrease by 50% tomorrow?
She thought for a quick moment and answered:
Marcos, I had not thought about that.
We kept chatting about this, and we worked together to find new money avenues directly to them.
This ind of company is the perfect candidate for The Panda Way. We could help you to generate more income for your company operations, and more capital to grow your business through strategic investing.
So, let's remember what's the Panda Way:
Build a profitable business
Take 30% of the Free Cash Flow to invest in at least one asset class every month, especially those assets focused on income investing
Take investment earnings and split it 50% for company operations and 50% for investing more

Repeat from step 2, until to have at least 7 different sources of income for your business. The key here?

Keep calm and keep investing
At The Panda Way, our mission is to find the different assets and investing deals to generate more income for your business.
We call them "Pandas", because at the beginning, they will be just a small percent of your monthly income, but if you start early, they will grow to a significant amount of money if you keep doing it.
So, here's the $100 Million question:
How a Shopify owner could earn more money , with the same amount of traffic, and their current Monthly Recurring Revenue?
I divided this post in six sections, and each section is focused in one thing only:
To make this even more valuable, I just picked one successful Shopify store: Gymshark: a fitness apparel & accessories brand, manufacturer and online retailer based in the United Kingdom, supported by millions of highly engaged social media followers and customers in 131 countries.
Some of the numbers behind Gymshark:
$128 Million in annual revenue for 2018

Founded in 2012

HQs: GSHQ, 3, Central Boulevard, Solihull, B90 8AB, UK

Slogan: Be a Visionary
Affiliate Marketing
Let's start with Affiliate Marketing. I've talked before about this: Why there are many companies and brands out there who don't use Affiliate Marketing to increase their Monthly Recurring Revenue?
There is a nothing wrong with that. And, with the big traffic that these companies are getting on monthly basis, it could be another good chunk of money delivered directly to the company's bank account.
Let's analyze first Gymshark deeply on this, and how much money could be letting in the table without Affiliate Marketing.
First, the traffic behind Gymshark
Using SimilarWeb's platform, I discovered that the traffic in the last six months (September, 2018 to February, 2019), the average is 3.85 Million: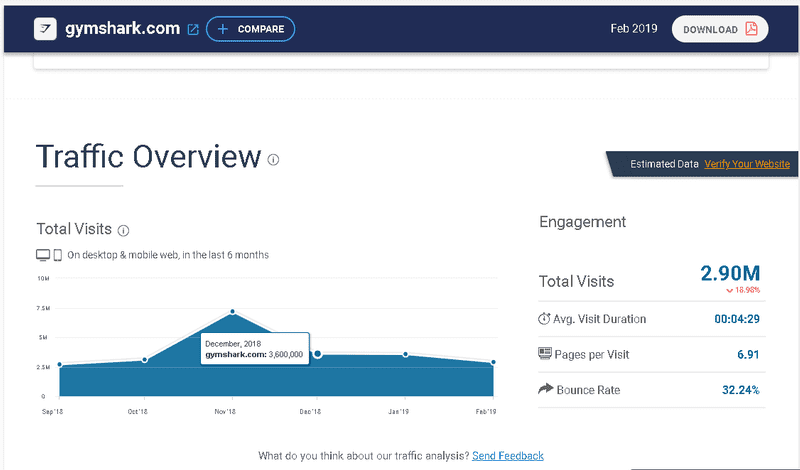 And based in the published numbers in the Shopify Plus blog post about the company, they have earned a revenue of $128 Million in 2018.
This means that on average, they have generated $10.6 Million per month. If we take in account the average visitors per month of 3.85 Million, they have gotten an average revenue per user of $2.75 USD. We will analyze this more in detail in the CRO section.
But, let's concentrate on the traffic numbers. In the last six month, 23.1 Million people around the globe visited the Gymshark website, with 31,90% coming from the United States.
Gymshark is a Shopify Plus customer, so they are a successful customer story on the Shopify Plus website. Why not take advantage of that?
Let's just discuss two ideas that Ben and the Gymshark team could explore right now:
A 5 Minutes video explaining why Gymshark is using right now Shopify Plus and how the company is using its multiple features of the platform to grow exponentially

An infographic made especially for Pinterest. In this platform. According to Sprout Social.

A short page or a blog post explaining the tools that Gymshark has used to scale to $128 Million in revenue in 2018. This post should include every tool that Gymshark is using, and if these tools has an affiliate program, sign up for it and talk about it
Just, let's see some of the tools that Gymshark uses today:
Zoom for video conference
Shopify Plus for e-commerce
Digital Ocean for hosting of certain parts of the website
Livechat, Inc for real-time chat
New Relic for web and application performance monitoring
and many more
In this short list, there are three potential money drivers for Gymshark: Zoom, Shopify Plus and Livechat.
All these companies have affiliate programs in place, and Livechat, Inc has a recurring revenue program, which is even better.
To make some rough calculations, let's take 10% of the monthly traffic that Gymshark takes:
10% of 3.5 Million is 350k visitors
Ben Francis, who is the founder at Gymshark is an inspiration for many people out there (myself included), so there are a lot of the Gymshark's audience that wants to have their own Shopify store, so why not help them to make their lives easier? Why not to write a detailed post how Ben and his team have grown a company from $0 to $128 Million in ARR in seven years with the help of Shopify?
Shopify's affiliate program has two modalities:
$58 USD for every customer who purchase a Premium plan on Shopify
$2,000 for every Shopify Plus customer
Taking just the 20% of that audience of 350k visitors, if just 1000 of them, decided to create their own Shopify store, and others 20 big brands decided to migrated to Shopify Plus:
(1000 visitors x $58 ) + (20 x $2,000) = $58,000 USD + $40,000 is equal to $98,000
Are you seeing the potential here? And this is just from one platform. Livechat, which is another platform that Gymshark uses on daily basis, has an even better affiliate program:
20% of the purchased plan for every customer you refer to Livechat, and 5% for every partner you encourage to use the platform
This means that if 1000 customers, sign up for the Team plan ($33 annually or $39 monthly), Gymshark could obtain at least $396 per year per client, which is equal to $396k USD per year, and if they sign up as partners through your link for it,
Gymshark could obtain a 5% lifetime commission as well:
Essentially, Second Tier allows you to make additional passive income from conversions of partners you refer to our Partner Program. Thanks to the two-tier affiliate model we can grant you a 5% lifetime commission of every sale made by anyone you brought our way.
The compensation via the Second Tier of our Affiliate Marketing Program is calculated as a straight percentage. What you get is 5% recurring commission from the value of the actual sale brought by people you recommend LiveChat Partner Program to.
My top recommendation to become a better affiliate marketer is the Make Sense of Affiliate Marketing course by Michelle Schroeder-Gardner, the Personal Finance blogger who makes more than $1.5 Million dollars using Affiliate Marketing.
Email Marketing
I'm a stats guy, so I love numbers. So, let me show some numbers about Email Marketing, and why you should invest from day one on that:
So, what about Gymshark and its Email Marketing game? I believe they are making a great work with their emails, but they could do it even better.
How?
I'm recommend you three resources for it:
Instagram Shoppable Posts
I'm still surprised to see why Gymshark is not selling directly on Instagram. They have a very engaged tribe on the platform with millions of interactions every day through their multiple accounts and their influencers as well.
To give you an overview of the Instagram community they have created, I will share here some numbers behind Gymshark official accounts and some of the influencers who are sponsored athletes of the company (March 24th, 2019).
According to blastup.com, these are the numbers:
This means that with these accounts only, Gymshark has a total reachable users number of 17,891,428.
And now, wih the new Checkout feature from the platform, it's a no-brainer to sell directly on Instagram:
Checkout enhances the shopping experience by making the purchase simple, convenient and secure. People no longer have to navigate to the browser when they want to buy. And with their protected payment information in one place, they can shop their favorite brands without needing to log in and enter their information multiple times.
So, Gymshark crew, you have to express your inner interest on this. Just use this form.
Pinterest Product Pins
There are 3 amazing reasons why Gymshark should invest on Pinterest:
Clothing and apparel is the fifth most popular category in the platform (37% of search)
$1 USD spent on Pinterest ads is equal to $2 USD in profits.
This means that Pinterest is getting more serious to help every brand to obtain better ROI every time.
Just read how ThirdLove, the incredible bra company was able to decrease its cost per acquisition in 14%, and increased in 26% in traffic in six weeks:
Pinterest allows us to meet our direct-response targets in an ad format that really also elevates the brand. said Julie Zischke, Growth Marketing Manager at ThirdLove
Do you want to know the third reason? Just see this picture below: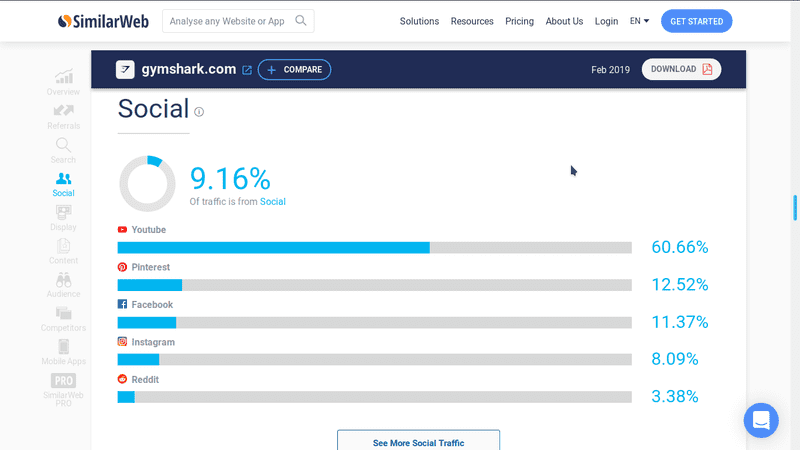 Pinterest is the second biggest traffic driver to the website, even above Instagram.
So, Gymshark has 369k followers on the platform and more than 10 Million views every month. It's time to take advantage of that.
How? With Product Pins and Creative Ads. If you see the Gymshark Women Pinterest board, you will see the potential there: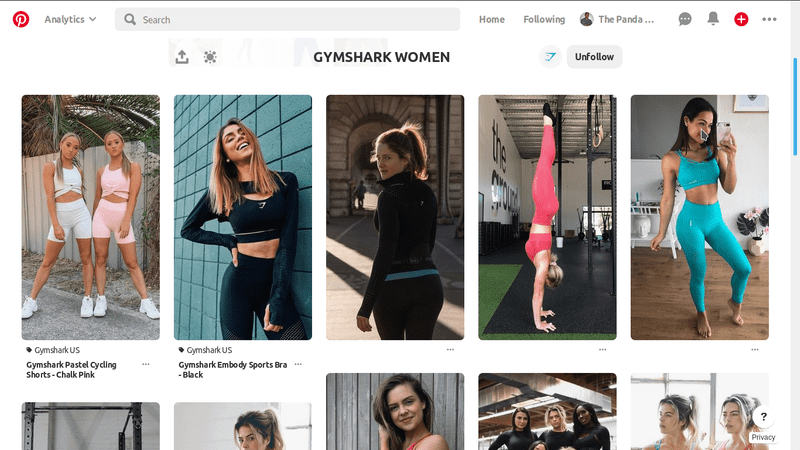 Using Social Pilot, you could make a quick analysis to the Gymshark's Pinterest account and see deeply which are the best Pins, which is your top content, which is the type of content who obtain more repins, etc.
The other features you need to pay a close attention are: Catalogs, Shop the Look and the most interesting for me: Shopping search.
So, don't let Pinterest behind folks.
The top recommendations to learn more about Pinterest Product Pins and Pinterest for e-commerce are:
Conversion Rate Optimization
Why Gymshark should invest on CRO? Because I strongly believe, they could earn even more capital with the amount of traffic they are getting on monthly basis.
From my perspective, there are two fronts to attack on this:
the optimization of the sales funnel
Web performance
I'm not an expert on the topic of CRO, but I do know the benefits of a fast web experience. As an Engineer, I work everyday on web peformance problems, and I've seen in first hand, how the checkout experience changes dramatically for good.
To give you a quick overview of Gymshark on the Lighthouse tool from Google: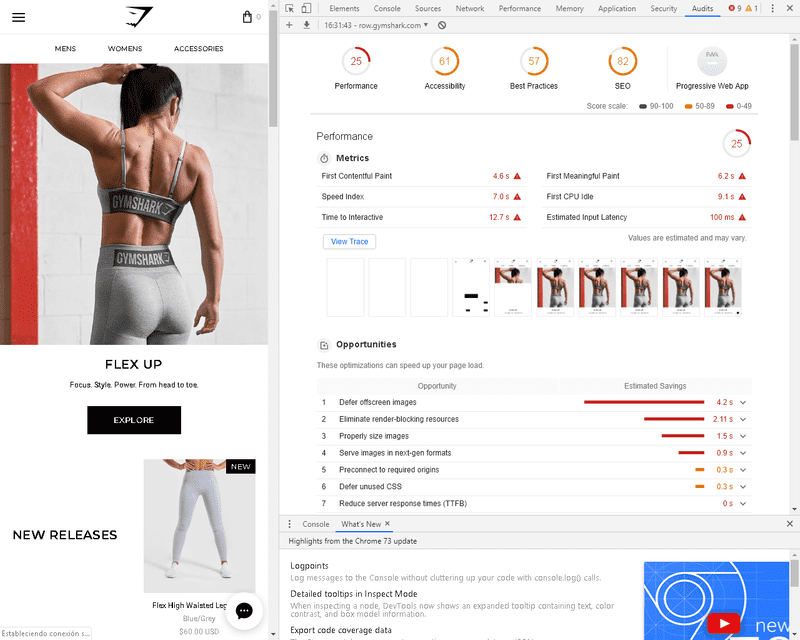 You can see that Gymshark has work to do. The same happens when you put Gymshark on the WebPageTest.org page: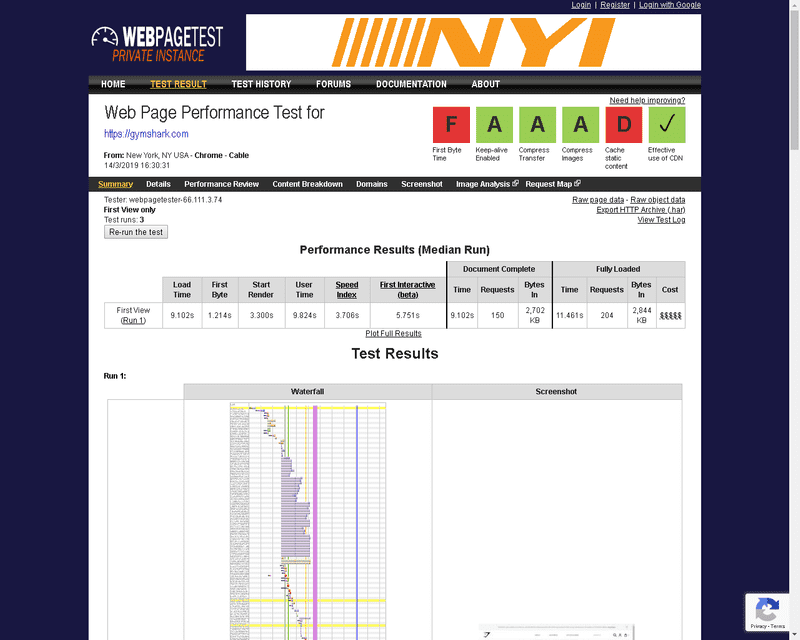 User time? 9 seconds. This is not a good sign.
There are several ways to improve that:
Use a good CDN (Cloudflare is my favorite here)
Use faster page generators like GatsbyJS (this website is based on it)
and many more strategies
But, CRO is more than web performance. It's about to generate more revenue from your existing audience with a detailed approach to sales conversion.
My Top recommendation here? Conversion Rate Experts.
This team wrote the book of CRO strategies, working with clients like Apple, Amazon, Dyson, Google and many more. So, if Gymshark wants more sales, this team is the team to work with.
Investing
OK, here's where The Panda Way could help Gymshark and other businesses to find the best assets class for them. We always will recommend profitable businesses to invest.
That's why we wanted to share some investing ideas for Gymshark today, especially those focused on income investing and growth investing.
Let's analyze this closely.
If you analyze the traffic on SimilarWeb from Gymshark, you will see that Narvar is the platform behind the post-purchase journey for retailers. Why invest in Narvar? I believe that if you look closely on the numbers behind the company, you will see why. Just sign up for EquityZen and invest on them
Second investment: Established businesses on Shopify
If Ben and his crew has created a $100 Million brand from nothing, they can do it again. That's why my second recommendation is to buy at least four different profitable businesses on Shopify Exchange.
Here's a list of a good businesses that could be a good fit for Gymshark:
My favorite upcoming IPO is Zoom Video Communications, Inc. Why? Because it's the only company who is profitable from the organizations that will become in public companies in April or after that. How to invest before the IPO? Use Sharespost for this. If you want more color on this, you should read Tom Tunguz post about the analysis behind Zoom's S-1.
Premium Investing Newsletters
These premium newsletters could help Gymshark to diversify its investments around the globe and across different industries and markets. These newsletters are:
Equity crowdfunding
Equity crowdfunding could be another source of investments for Gymshark. These are one of my favorite deals today:
Amplefoods: a satisfying, real-food meal in a bottle that combines optimal nutrition and great taste in a convenient format you can take anywhere. Using high-quality ingredients backed by sound science, Ample's Original, Ketogenic, and Plant-Based formulas provide a fast, easy solution for eating well on your busiest days
Cloudastructure: Cloudastructure centralizes the management of access control with video monitoring and allows customers to scale geographically to multiple locations. The Cloudastructure solution delivers the intelligence online while it puts the data safely offsite. Cloudastructure indexes all the objects and faces in the video, just like Google indexed the web. This means you can search through all your videos by tag: person, animal, vehicle, etc. and even individual faces — just like you can search the web. Instantly see all the video with the object you're looking for in it
Up Sonder: is the one stop solution for drone services for manned and autonomous missions
PenPal Schools: With over 320,000 participating students in more than 150 countries, PenPal Schools is leading the project-based learning revolution
Real State crowdfunding
Gymshark is an U.K based company, so the Real State crowdfunding platforms I will recommend to them are based in Europe as well. Here's the completed list:
Conclusions
I believe that many Shopify store owners are not taking advantage of the incredible opportunities they have in place to make money. That's why I wanted to share all these ways to do it. There are more, believe me, and I will try to update this post with more opportunities, but you can use these ones here as a foundation.
I used Gymshark as an example here, but I think that all these strategies can applied to every Shopify store out there.
Our objective here at The Panda Way is to help you to make more money through strategic investing. So, if you have any recommendation, question, suggestion, comment; please don't hesitate to send me an email or a Tweet (it's the fastest way to contact me).
And you want to hear more investing opportunities, just join to our newsletter here. It's completely free to join.